Average collision repair rental length increased by 4.9 days in the first quarter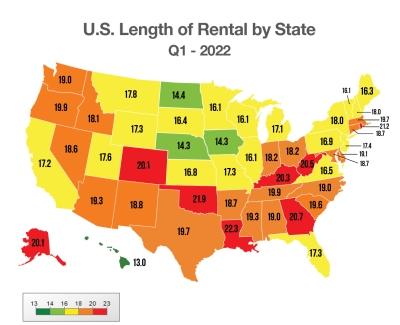 The first quarter of 2022 saw the average rental length (LOR) for collision replacement rentals increase by 4.9 days compared to 2021.
This nearly five-day increase continues the industry's trend of unprecedented increases, including a nearly four-day increase in the fourth quarter of 2021.
While January is a traditional LOR peak period, along with June, historically the numbers tend to drop in February and March. This remained true in 2022 — but this year's numbers were much higher, with several industry-wide issues contributing to these extraordinary results.
Overall in the United States, the LOR for the first quarter of 2022 reached 18.2 days, an increase of 4.9 days compared to 13.3 days in the first quarter of 2021. This includes replacement rentals for repairs with or without driving as well as claims for total losses.
Washington State recorded the largest overall increase in LOR of 7.2 days (from 11.8 days to 19.0). Notably, Washington was among the bottom 10 states in the first quarter of 2021.
Nine other states saw increases greater than six days, while 28 states plus the District of Columbia saw increases greater than five days.
Hawaii saw the smallest increase at 1.5 days, while Nebraska and Iowa saw increases of 2.8 and 2.9 days, respectively.
Louisiana had the highest overall LOR of 22.3 days while seven other states had LORs above 20 days. It is telling that in the first quarter of 2021, the highest LOR of any state was Louisiana at 16.4 days. A year later, only nine states and the District of Columbia have an LOR lower than the highest score in the first quarter of 2021.
At the regional level, no one was immune to these trends. The Southwest, Northwest, Southeast, and Mountain states all had LORs of 19 days or greater, meaning the drivers of these LOR increases are national issues with deep causal factors. , including parts delivery delays, workshop production capacity and the impact of new technologies such as electricity. Vehicles.
As for parts, Greg Horndirector of innovation for Share Trader, said, "We achieved a record number of median delivery days for all part types. We measure the median plus two standard deviations to get a full picture of all the parts that need to be replaced.
"What we've seen in the first quarter of this year is…