CSIS Provides Update on Collision Repair Industry Projects; DEG offers update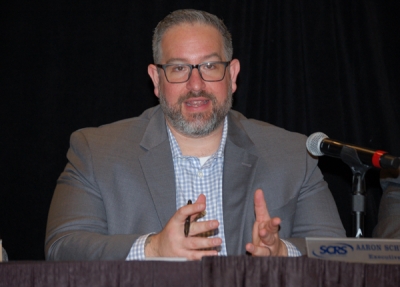 Research into the accuracy of the mixing time formula commonly used in industry is among the projects that Society of Collision Repair Specialists (CSIS) has on its registry, the association reported at an April public board meeting in Oklahoma City.
"A lot of our members have challenged us that the mix times just aren't realistic," said Aaron Schulenburg, Executive Director of CSIS. "We hear you. We have decided to invest in more research on this and provide answers transparently to the industry.
"Mixing is a very difficult task, involving many steps and preparations, and we have long disputed that 50% [of full refinish time] the formulas do not reflect what is actually needed with the mixing task.
Schulenburg said the association is also "close to a solution" in terms of offering a health insurance plan to the industry.
"We have been talking about health care for a long time [and] continue to work on solutions there," Schulenburg said. "I can't repeat it enough: the last thing CSIS wants to do is develop a solution that we don't think will be long-term, and ask industry to consider it, change it, move on. through the process of doing all of that, and ending up in a place where, a year from now, you're not in a better position than you were.
"That's been the stumbling block for us in a lot of the solutions that we've found. I think we're really close to something, [and] as soon as we know we can feel confident putting our name, brand and endorsement behind it, we will.
Michael Bradshaw
CSIS Board Member Michael Bradshaw said the association also continues to develop weekly "Quick Tip" videos, offering brief information and advice related to technical processes, estimating, negotiation, documentation and business practices.
"These are great tools for your staff," Bradshaw said. "And something we've seen in our facility: if there's a sticking point on a transaction between third-party payers and your staff, these videos can be a very quick and easy tool to send to [the insurer] to help them understand what is happening and why it needs to be done.
He said CSIS will also create videos for vehicle owners.
"As stores, we all sometimes struggle to…