GUNIWHEEL™ is making the world of collision repair go round one wheel at a time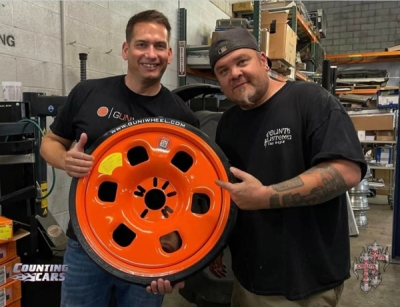 A body shop manager in San Francisco, California told me he spends more time moving cars than fixing them.
With limited space on the workshop floor and literally no parking in the parking lot, vehicle staging is a full-time job for an apprentice whose job title is "porter". He wants to train as a technician, but in the end he is nothing more than a valet.
Getting cars back to their pre-crash condition is hard enough, and in many cases moving vehicles safely around the shop is a separate task in its own right.
With a mission to mount and move vehicles safely with its universal bolt pattern shop wheels, SCROLL WHEEL™ is popular with body shops, car restoration companies, towing companies, wheel repair companies and car dealerships.
Its universal four- or five-bolt designs for cars and light-duty SUVs are made from thicker steel for added durability needed in heavy-duty workshop environments. Easy to mount and safe to install in any hub location, their compact and slim design frees up counter space around the hub, stacks neatly on racks and stands, and eliminates the need for multiple spares.
Drives up to 5 mph, GUNIWHEEL™ rolls easily over pipes, grates, bumps and ramps. It can also be used in the paint booth to prevent overspray on expensive wheels and tires.
It is available in three sizes based on vehicle bolt pattern and center bore size: the GUNIWHEEL™ 45S, 56 and 80.
Made from injection molded polyurethane, the solid black tire of each GUNIWHEEL™ won't puncture and has a unique safety feature to prevent over-speeding. Evenly spaced ribs are molded across the width of the tire and will begin to vibrate once the speed reaches the 5 mph speed limit. The carbon steel rim has a durable design and is painted orange for quick and easy identification. Each wheel weighs only 34 pounds.
Marketing Director Mike Dunlap saw the GUNIWHEEL™ market explode and was integral to the company's success. The first big distribution deal he signed was with…