Local body shop under new ownership, joining CSN collision center network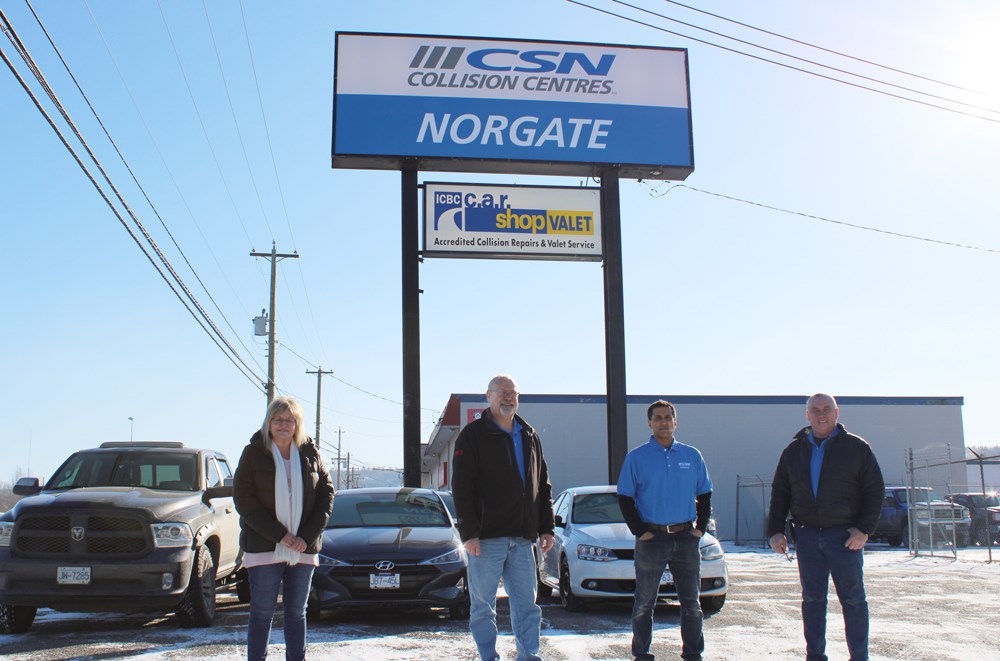 One of Prince George's oldest and largest body shops, renowned local body shop CARSTAR Norgate, has changed ownership while maintaining the same excellent service it has always provided.
In November 2021, Lift Auto Group acquired CARSTAR Norgate, changing its name to CSN Norgate but retaining the same high quality staff and commitment to excellence.
Former owner Kent Berg, whose father started the business in 1960 and grew up working in the business until he took over ownership, thought Lift would be the best company to carry on the legacy. from his family.
"This store is an important part of the community," says Berg. "Lift Auto Group is a good, solid company that is growing, and it is good for Norgate. I believe I sold it to the right people, who can help it grow and continue the store's community involvement.
The sale is part of a natural progression, after two generations of hard work establishing a trusted destination for all collision needs.
"We have built a very large, fully equipped body repair centre, one of the most modern workshops around, and I am confident that it will continue to be an excellent workshop for a very long time," says Berg.
While CSN Norgate is under new ownership, staff have remained largely the same, so long-time customers will enjoy the added benefits of continued service from a familiar team, with the benefit of additional resources. provided by joining the CSN collision center network.
"Much of the team has been working together for over 20 years. Yes, there is a new owner, but the close-knit team that has worked here for years will remain. Nothing changes," says Marlene Yeomans, CSN Norgate office coordinator.
Yeomans has been working on the CSN Norgate site since 2006.
"Like CSN Collision Centres, Norgate recognizes how quickly the industry is changing. Both companies have very similar values. " said Yeomans.
The CSN Collision Center Network exists to help independent collision repair centers improve their operations through performance reviews, ongoing training and marketing initiatives.
"Cars are constantly evolving and there are always new things to learn. CSN offers support and training so we can stay up to date on the latest best practices," says Yeomans.
"The training they provide is excellent, as are the insurance relationships. They work hard to build relationships with insurance companies so that we have the best people to deal with if we have problems with claims.
Getting into a car accident can be overwhelming, especially for someone who has never dealt with collision repair before and has no experience dealing with insurance companies.
As an ICBC Tier 1 store, CSN Norgate is an expert in handling ICBC claims. "We go above and beyond for our customers," says Yeomans.
"We work six days a week. We stay late for our customers. Our technicians are all well trained and we are constantly evolving, ensuring that we have all the new technologies. »
If you have an accident, you can walk away with peace of mind knowing that CSN Norgate provided best-in-class service to get you back on the road safely.
What sets CSN Norgate apart is its ability to handle glass claims independently.
"If it's a windshield, we can handle it all here," Yeomans.
"We have certified glass technicians that few stores offer. We can handle glass complaints in-house. We can start and end here without having to contact insurance on your own.
Under new ownership, CSN Norgate will also continue its local fundraising efforts, raising funds for Kiwanis International, Ronald McDonald House and more.
"We've been here since 1960 and we've always contributed to the community because the community is what unites us," Yeomans.
For more information, visit liftautogroup.com.