Our picks for the best headlight restoration kits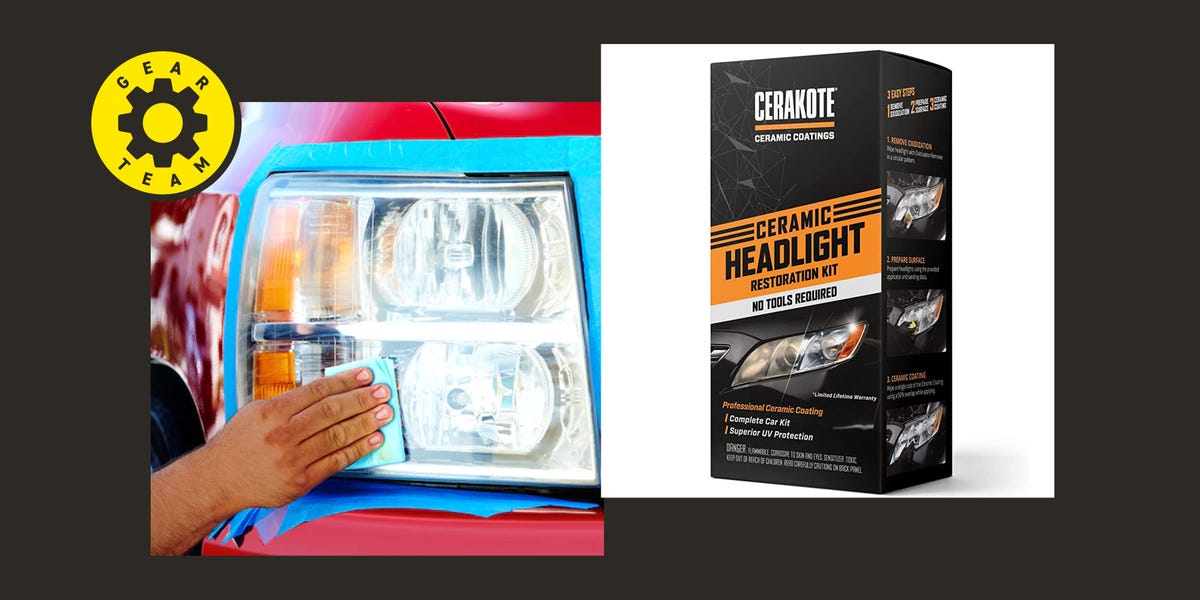 Car headlights yellow or darken over time due to degradation of the protective coating on the lens. This contamination can make your headlights weaker and therefore less safe. One way to clean them is to use headlight cleaning kits, which have been around for decades. They remove the damaged yellow layer and replace it with a new, albeit temporary, protective coating. The long-term solution is to replace the entire headlight housing, which can be costly. You may also get fog on the inside of the lens, which usually means you have a leak that won't be cleaned with these products.
So for a quick, short-term solution to getting your headlights bright and safe again, check out these top-notch headlight cleaning kits. They might help you (and others) see better in the dark.
Premium wiper blades that you can install yourself
---
Advertising – Continue Reading Below
Ideal for quick and easy cleanups
No tools or sandpaper needed
Easy to use
Armor All Ultra Shine Headlight Restoration Wipes are worth a try if your headlights are just barely foggy. Rub with the anti-oxidation wipes, then wipe with the anti-UV wipe to keep it shiny. Reviews are a bit mixed, so we only recommend them for a quick clean on some slightly hazy lenses. Anything more, and you'll want one of the kits below.
Includes active and passive UV blockers
Applies in less than 30 minutes with no drilling required
Sylvania's Headlight Restoration Kit comes with more items and steps, but does a better job of cleaning lenses than just wipes, if you have the arm for it. Using a cleaner, various sandpapers and an application of clear varnish, it cleans and restores the headlights perfectly.
Seals headlights to prevent future yellowing
Best-selling product
Might need a drill for best results
Turtle Wax Headlight Lens Restorer is similar to the Sylvania Kit and includes pre-soaked wipes for added convenience. Be sure to follow the instructions to a T, as reviewers have warned that the sanding procedure can be a bit tricky. However, if done well, the headlights turn out to be very clear.
Removes dead and faded plastic
Sealant protects against UV rays
Repeat applications and/or buffing may be required
With this bottle of Chemical Guys Headlight Restorer Compound, all you need is a microfiber cloth and a little elbow grease. Apply dots of the substance to the cloth and rub vigorously on the headlight until it is clear. Wipe with a separate cloth and check for clarity – it may take a few applications to make it completely clear. Chemical Guys says using sandpaper is simply optional.
Best Ceramic Headlight Coating
A professional-grade ceramic coating that chemically bonds to the headlights
Easy to use; no tools needed
Complete removal of oxidation and previous clear coat required for best results
This Ceramic Headlight Restoration Kit from Cerakote comes with everything you need for a complete, tool-free headlight restoration. The kit comes with wipes and pad and handy, ergonomic surface prep discs to remove any deep oxidation, all without the need to use a drill. Apply the final ceramic coating and voila! Cerakote offers a limited lifetime warranty that lasts as long as you own the vehicle.
Best for all plastic lenses
Ideal for all plastic lenses including headlights, taillights, fog lights, turn signals etc.
Professional quality
This kit from 3M is similar to the Cerakote kit but requires a real drill to use the sandpaper. All it takes is a little polishing with the included sanding discs and your drill of choice. Then buff the final rubbing compound onto the lens with the sponge and enjoy the new look.
Advanced process for serious retailers
Lasts for multiple applications
Requires a drill, painter's tape and patience
For those planning to clean multiple headlights, this professional headlight restoration kit from OPT7 is a good solution. This five-step cleaning process uses a ceramic coating to protect the lens after cleaning. You will also need a drill for this kit. If you're a detailer, this could be a great choice for your cleaning inventory.
Complete set for pros includes two pneumatic polishing bits
3M claims the kit can restore up to 25 headlights
Do not use on glass lenses
And finally, if you're really serious about headlight restoration, this 3M Professional Headlight Lens Restoration System has everything you could need. Includes two polishing drill bits, various pads, wipes, bottles of cleaner and polish, and sanding pads. The carrier bags are also very cute.
This content is created and maintained by a third party, and uploaded to this page to help users provide their email addresses. You may be able to find more information about this and similar content on piano.io
Advertising – Continue Reading Below