Responding to 'extreme demand,' Wake Tech adds collision repair diploma program, opens $42 million facility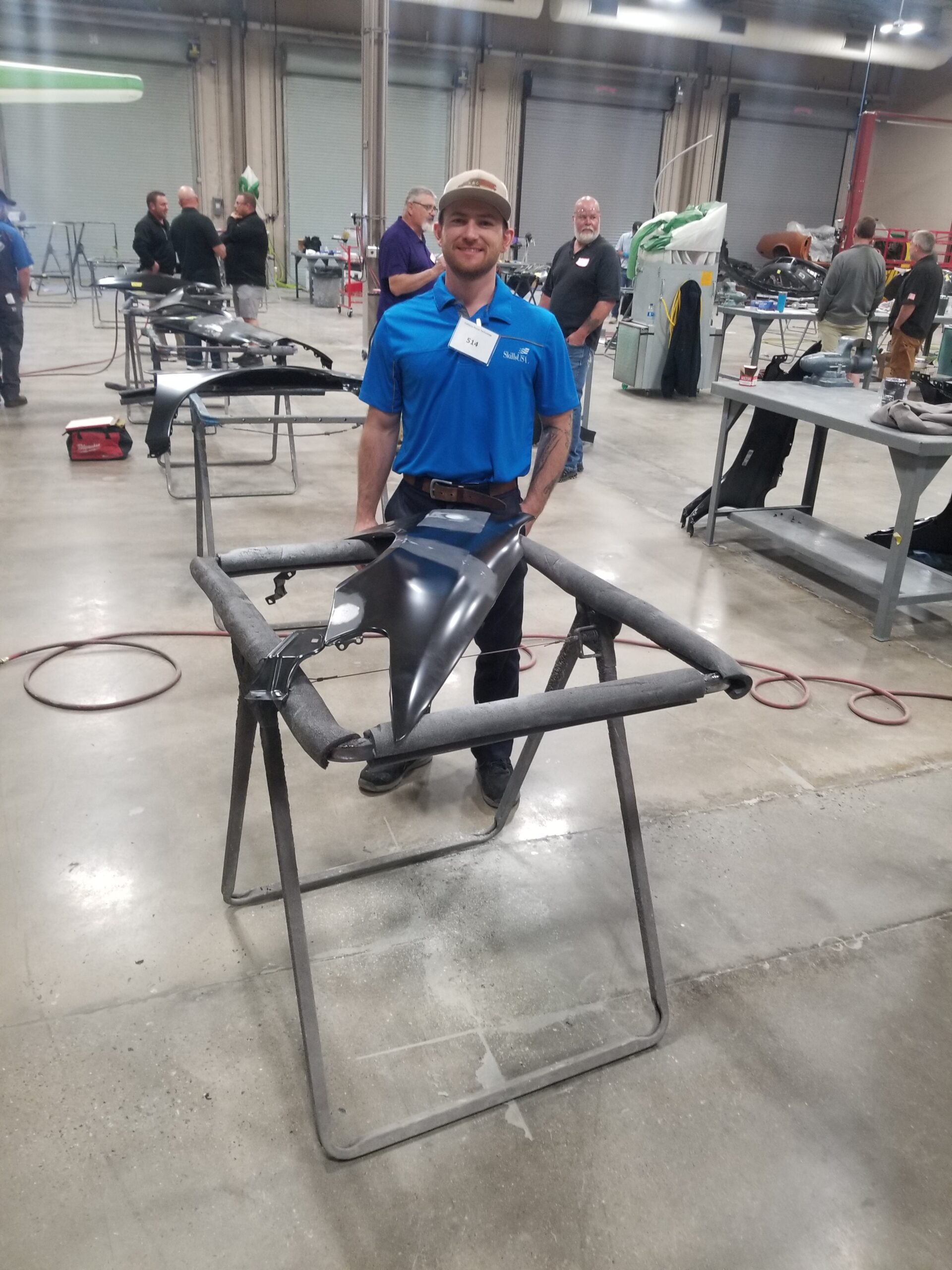 Wake Technical Community College opened a $42 million automotive facility and added a collision repair diploma program, addressing unmet demand for technicians, according to educators at the North Carolina school.
"I could place every student I have," Clark Correll, collision repair and refinish program manager, told Repairer Driven News. "There is just extreme demand for them, in all facets – dealerships, independents, everywhere. I could place all of them. I get calls constantly.
Since January, Wake Tech has been offering a two-year Associate of Applied Science degree in Collision Repair and Refinishing Technology, in addition to its diploma and certificate programs.
At this time, the program is limited to 10 students as the program prepares its equipment and facilities, Dave Favre, dean of transportation at Wake Tech, told RDN. The program will increase by another 16 students in June, reaching a maximum of 80 enrollments.
The new diploma program is designed to "provide the knowledge and skills needed to perform structural and non-structural damage repairs, as well as painting and refinishing automotive equipment," the college says. Graduates should qualify for entry-level employment, with progression based on training completed, knowledge and ability levels, job performance and ethics.
Students take courses in structural and non-structural repairs, paint and adhesives, painting, special finishes, automotive estimating, and welding. They are also required to complete five general education courses, expanding their knowledge.
"That includes some of the soft skills, English, math, communications, etc. to get a degree," Favre said. It also includes courses that can be applied to a general automotive degree, should a student wish to change paths.
Instruction takes place in the 15,000 square foot collision repair facility at the new Hendrick Center for Automotive Excellence, which includes two Car-O-Liner chassis machines, four Blowtherm paint booths, an Axalta paint mixing system and a welding lab equipped with eight Car-O-Liner welders, where students learn to weld steel, stainless steel and aluminum.
"We have the best facilities I've ever seen and I've been to a lot of them," Correll said. "It's state-of-the-art. Plenty of room to move. Fantastic equipment. Just the best of the best.
The new facility was made possible by a number of Wake Tech's industry partners, in particular Hendrick Automotive Group, for whom the center is named. Hendrick created a $1 million endowment to support students, faculty, staff, and technology in the college's automotive programs.
Supporting industry partners include Advance Auto Parts, which donated $250,000 to increase the number of women and other underrepresented groups in automotive training programs through its program scholarships Future Technicians, and Axalta Coating Systems, which donated $250,000 for scholarships and faculty support, and another $65,000 for equipment and supplies.
"We are thrilled to open what is arguably one of the finest automotive training centers in the country," Wake Tech President Scott Ralls said at the center's May 13 grand opening. "Automotive service and collision repair has changed dramatically, and today's technicians require highly specialized skills. Now we will be able to provide the [region's] many dealers and service centers with the skilled labor they need.
As documented by the TechForce Foundation, the industry is experiencing a nationwide shortage of automotive technicians. In its 2021 Technician Supply and Demand Report, the foundation cites projections from the federal Bureau of Labor Statistics that 88,000 body repair positions will become vacant by 2025, mostly upon retirement.
At Wake Tech, Correll and Favre said there's been a lot of interest in the program from students, who recognize the opportunities a career in the collision repair industry presents.
Correll said there is growing recognition that collision repair "is very technical. Only the repair procedures have changed so much over the past 20 years that you need to stay on top of your game all the time. Even after you enter the field, your education never stops. You constantly go to training, you learn new procedures and such.
"We actually have ADAS [advanced driver assistance systems] equipment to incorporate into our training as well," he added. "And we're moving into electric vehicles and hybrid technology, just adding collision repair to that."
Most students plan to start their career by getting a job in an auto body shop, Favre said, while a smaller percentage plan to open their own business. "I have a student at the moment who wants to export cars, so he wants to work for himself," he said.
Several Wake Tech students recently exhibited their training at SkillsUSA state competitions. Benjamin Pajerski placed first in Welding Technology and will compete in the National SkillsUSA competitions in June. James Keen was fifth in Collision Damage Appraisal and Jeanluc Cook was third in Collision Repair Technology.
The Hendrick Center for Automotive Excellence is the first of five major expansion projects funded by Wake County's 2018 bond, which passed with 65% of the vote. The project architect was Gensler and the construction manager was Brasfield and Gorrie. Wake Tech's project manager was Daniel Edwards.
More information
The College opens the Hendrick Center for Automotive Excellence
https://www.waketech.edu/post/wt-news-story/11721
Students Excel in SkillsUSA State Competition
https://www.waketech.edu/post/wt-news-story/11833
Several automotive scholarships offered amid worsening nationwide tech shortages
Pictures
Featured Image: A Wake Tech student competes in the SkillsUSA State Competitions on May 3.
Share this:
Related