WIN panel discusses post-COVID changes and challenges related to collision repair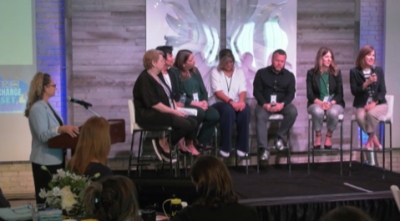 the Women's Industry Network (WIN) hosted "Industry Changes, Challenges & Opportunities in a Post-COVID World," as part of its first-ever hybrid educational conference, held May 2-4 online and in Greenville, SC.
Hosted by Jamie Shakelforddirector of business strategy and enablement for Caliber Collisionthe discussion focused on how the industry can move forward, many different viewpoints including insurance companies, car rental companies, parts and materials suppliers, OEMs and body shops.
The panel discussed supply chain and personnel issues and trends that have increased cycle times, leading to frustration at every step of the repair process, all the way to customers.
Brenda Hewittresponsible for the warranty repair network for the western United States for Liberty Mutualsaid the pandemic has put a lot of pressure on an industry that was already feeling a lot of pressure.
"Everyone had been worried for several months [at the onset of the pandemic]", Hewitt said. "Fast forward to last summer, and not only do we still have jobs, but we have more than we can handle. Now we look at inflation.
"It's about working together and not pointing fingers at everyone in the industry," she said.
"Customers who perhaps before [the pandemic] came in scared and frustrated but friendly, more and more are angry and looking to blame someone," Hewitt said. "We all need to empathize and understand that everyone is in a different place."
Mary MahonyVice President of the Global Replacement and Leisure Team for Company holdingssaid car rental employees are seeing the same frustration with customers.
In the first quarter of 2022, the average rental length for collision repair customers — including driving, non-driving and total loss claims — increased to 18.2 days, an increase of nearly five days compared to the first quarter of the previous year. .
Mahoney said that's partly due to the number of large SUVs and trucks people are buying and crashing into; while the size of the vehicles increases the severity of the damage, their high real cash values ​​make it more economical to repair what would be a total loss on a less expensive vehicle.
Angie Babinvice president of supply chain for Caliber Collision, said there was already a shortage of technicians before COVID, but now everyone recognizes it.
"The shortage of labor is also increasing…